News — shuffleboard
Posted by Emily Ogle on
We've explored why players of 
pool
, 
curling
, and 
shuffleboard
 would all love 
crokinole
, for different and overlapping reasons. Now we'll turn our sights to a closer relation of crokinole, carrom. Although carrom comes from South Asia and 
crokinole
 from Canada, carrom's history suggests that it might be a precursor of crokinole.
Posted by Emily Ogle on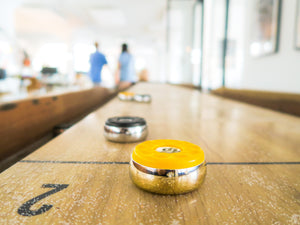 In previous posts, we've discussed how a 
pool player
 and an 
aspiring curler
 might enjoy the 19
th
-century Canadian table sport 
crokinole
. As part of this series where we try to convince everyone to play crokinole, we thought we'd aim for shuffleboard players next.