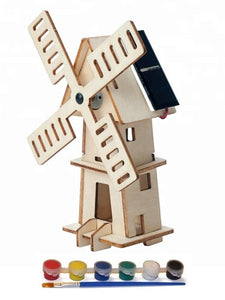 30 Solar Powered Windmill with Paints Order (Free Delivery Included)
Wind power meets solar power in this energy-efficient toy!
Like the rest of our wooden 3D puzzles, this solar-powered windmill can be assembled and painted yourself. With these puzzles, children and adults alike can practice engineering concepts while imagining limitless creative designs. The solar-powered puzzles introduce the elements of science and energy to the equation, making for an even more exciting and educational experience.
Despite technological and industrial revolutions, the classic image of the windmill has persisted for centuries as a prime example of humanity's mechanical innovation. The hands-on nature of this puzzle can help you and your family understand how the windmill's ancient technology works.
After assembly, set this windmill in your windowsill and let it soak up the sun. Once charged, it's a creative and unique mobile display for your home—and you don't have to worry about plugging it in or replacing the batteries, because the sun does all the work for you!
To learn about another ancient technology, check out our solar-powered watermill puzzle here.
Each order of "Original Hobby Wood Craft 3D Puzzle (Solar-Powered Windmill)" includes the following:
Precut wooden puzzle shapes (no tools or glue required)
Set of six paints with paintbrush (colors include red, yellow, blue, green, white, and black)
Solar panel and motor
Instructions for assembly